Introduction
Work Place is a feature that allows you to collect a variety of resources, including Experience Juices, Gears and Diamonds.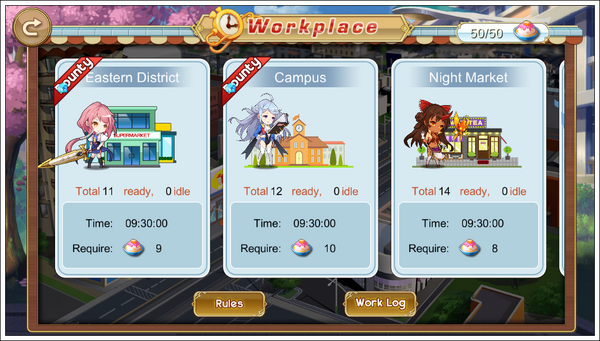 It is divided in five main zones, which are divided in various subzones, each one providing different types of resources.
Apart from the Science Park, where you can send only ten girls, all the other three zones allow up to seventeen.

The Night Market unlocks at level 55, the Science Park unlocks at level 85, and the Foster Home unlocks at level 100.

Each girl will have a different effect on the work process, like increasing the profit, decreasing work time, decreasing the Ice Cream amount required, etc.


Rules
Masters need to be level 14 or above to be able to work. More workplaces will be unlocked as your academy level goes higher.
You need to spend Ice Creams for your girls to work. The academy provides 3 ice creams each hour.
Different workplaces suits different girls. There is only one place for each girl.
Except in Future High-Tech Factory, you may meet rivals or gain extra rewards during work in other
places. The higher your team's average attack power, the more chance to beat your opponents.
Some girls own a special power that can boost work efficiency, reduce ice cream consumption, or
increase the rate to meet rivals or gain extra rewards, etc.
Number of your working girls, plus their levels, promotions, and stars, will all affect the basic rewards amount.
Workplace might offer some work for masters above level 42 to get bonus diamond rewards after
every 5 a.m. (GMT +8).