Contents: Summary / Rules / Hints  
Summary
In this game mode, you'll fight through fifteen stages, collecting rewards after each victory.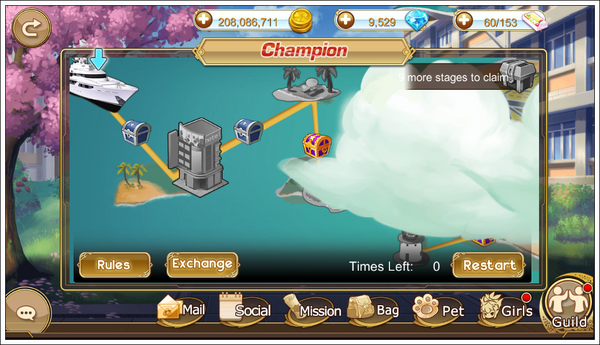 At the 9th stage, a Mystic Chest will be available for opening, at the cost of 50 diamonds. While this chest is currently the only way of obtaining Luna, the odds are very low, so most players choose to skip it, due to the more common rewards being blue gears.

Golden framed chests contain coins that can be used in the Champion Exchange.
Rules
In Champion, HP and SP of Battle Girls from both sides will not be reset.
Fallen Battle Girls cannot be revived.
When battle time ends, then consider both 2 sides lose.
Only 1 chance for every player daily.
After winning a battle, player can unlock treasure chest to gain luxuriant rewards
like coins, gears, scrolls, and small chance to win a Battle Girl.
Player who defeats the 9th opponent in Champion can gain the access to
Mystic Chest, by spending 50 diamonds to unlock Mystic Chest for
abundant rewards. After Champion reset, Mystic Chest also will be reset whether
remain locked or open.
Not only you can collect Champion Trophy from treasure chest, but also exchange
plentiful reward in Champion Exchange.
Hints
You can pause and quit the battle, in case things don't go the way you wanted.
Due to their fast MP recovery, a team with Lily and Cynthia will help you cut your way trough
most stages.
Use your ultimate skills wisely.